Linking land, people and ideas
Help care for and protect your special places
Through active partnership and collaboration with organisations and landholders, Green Skills protects and restores the natural ecology of areas from Perth to WA's Great Southern.
Our hands-on revegetation and restoration projects build community awareness of the importance of biodiversity to a sustainable future.
Green Skills has a particular focus on weed control, shorebirds, and wetlands, and works closely with the iconic Gondwana Link program.
Revegetate Restore and Rehabilitate
Green Skills has a wealth of experience in practical, collaborative, and innovative ecological restoration; from fencing off native vegetation, revegetating important places and managing weeds.
Biodiversity
The South West of Western Australia is one of 34 recognised global biodiversity hotspots. Our contribution to conserving and restoring our natural environment is vitally important and it relies on community and volunteer involvement.
Wetlands and Waterways
Wetlands are a crucial part of our natural world, but are often under-appreciated and threatened.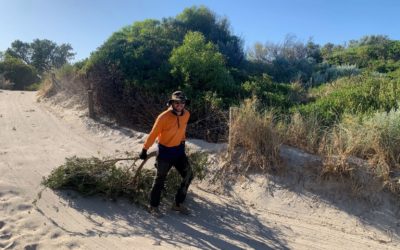 Visitors to Coogee Beach will notice Ecojobs staff working in the dunes - not trampling, but using a technique called "brushing". This rehabilitation method involves using tree and shrub branches to stabilise dunes. Native branches create a microclimate that protects...
James Gentle
Project Manager Denmark Tip Shop Manager
James is committed to the reduction of landfill and the reuse, recycling or upcycling of everyday items. James, a lateral thinker, actively promotes the Tip Shop philosophy through creative arts projects and collaborative ventures with community and school groups in the area.
Read More
Jasmyn Kirkman
Payroll Officer
Jasmyn has been working for many years with Green Skills Albany Ecojobs and has recently expanded her employment role with Green Skills to become our new Payroll Officer. Jasmyn will be sharing her working time between the Green Skills Denmark and Albany offices.  Her role of payroll officer will be mostly undertaken from the Denmark office.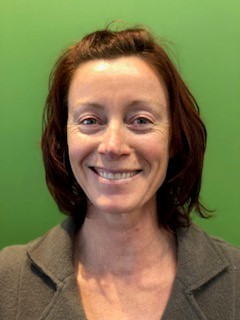 Nicole Robinson
Finance Manager
Nicole has recently joined Green Skills as our new finance manager. Her organisation-wide role of managing the Green Skills finances is delivered from the Denmark office. Nicole is warmly welcomed into the Denmark office team.
Read More
Perth
| | |
| --- | --- |
| | (08) 9360 6667 |
| | Campus Drive, Environmental Technology Centre (ETC), Murdoch University, Murdoch WA 6150 |
Albany
| | |
| --- | --- |
| | (08) 9842 1334 |
| | 38 Graham Street, (cnr Barker Road) Centennial Park, Albany WA 6330 |
Denmark
(08) 9848 3310

PO Box 577 Denmark WA 6333
Unit 4, 33-35 Strickland Street, Denmark WA 6333
Sign Up To Our Newsletter